The Gilded hollow is a huge place, there are many beautiful vistas, hidden glens and peaceful sanctuaries tucked away within it's cavernous walls. Lately my favorite place is the bridge that grants entry to the Gilded city of the forgotten, because from there you can see all we have achieved and more in such a short span of time.
The magical restoration of various buildings. The tavern and all the fond memories I have of it. Beyond that, the workshop with it's soaring pillars and glorious water features, the bank access too :3. Behind that you can see the hanging terraces of the guild arena, it's beautiful design combined with the fun and beatings I've had there make it a cherished location. In the foreground stands the guild's War room, a place we haven't made much use of, but it's beautiful design, it's arched buttresses, and flowered terraces are the perfect place to practice my flute playing.
Light pours down from the cavern ceiling, illuminating the plaza, it's pillars and walls fused with the arching roots and branches of trees to form a gigantic sentinel for the Crystal Chamber. The Crystal Chamber, housing the heart of our guild's home, a growing glow that expands and grows, it's crystalline boughs stretching in all directions a reflection of the guild, and it's members.
Further beyond all this, lies the Gilded castles, sealed behind forgotten gates, the chambers and terraces, the forgotten pathways, once used by the last of a race of serpentine wardens. Reminds me of all we are yet to achieve.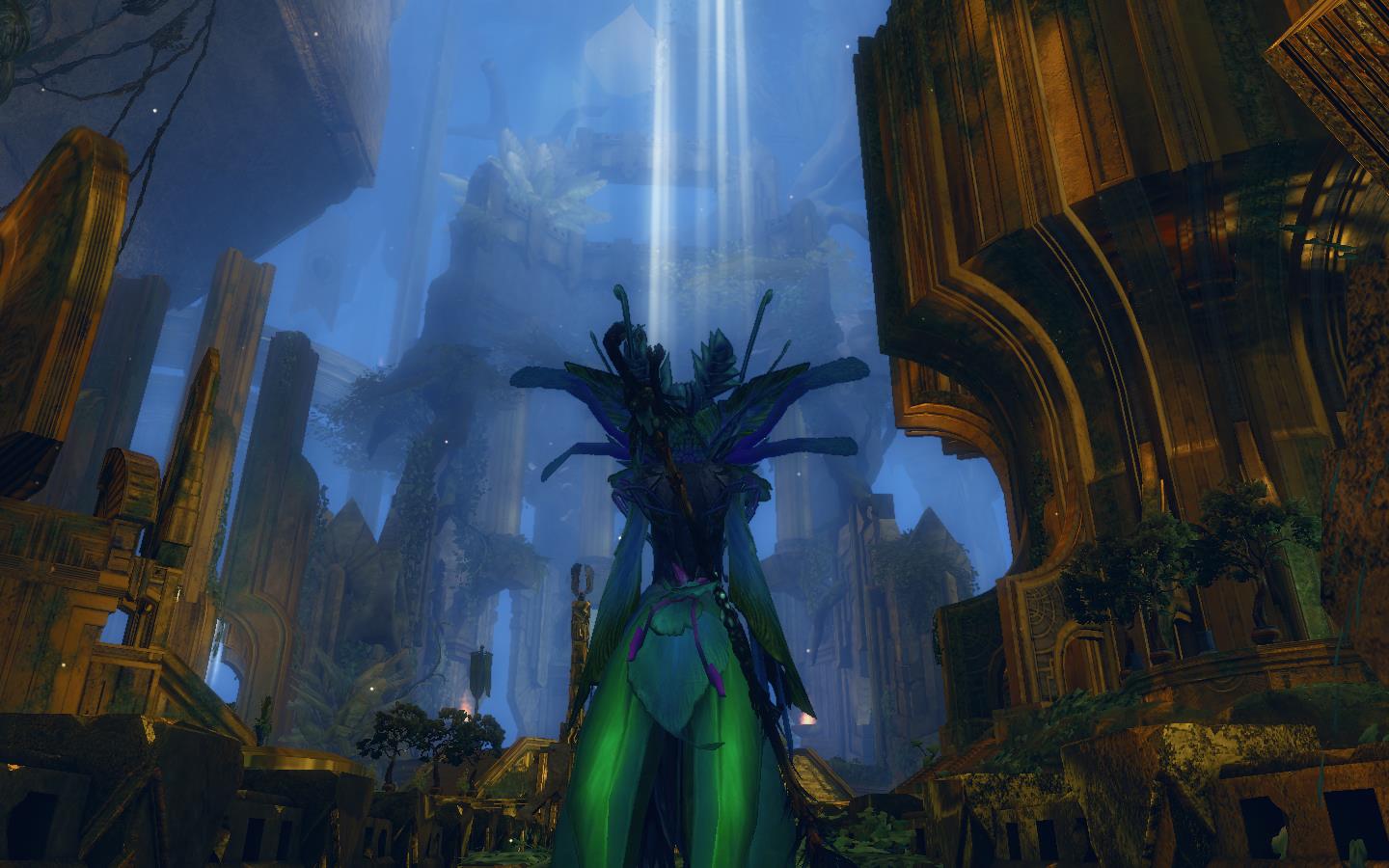 What's your favorite place within our guild hall?
I'm afraid I can't wax as poetic about the guild hall as you (well, I probably could; I just don't care enough to). But I like the water feature near the bar. I've always been partial to water features, and that's a particularly nice one.